KOREAN WAR NOVELS
admin │ 2021-08-31
SPECIAL ZOOM LECTURE FOR GRADUATE STUDENTS
KOREAN WAR NOVELS
1st Lecture (September 23, 10:00 am-12:00 pm)
Lecturer: Jody Kim (UC Riverside) on "The Cold War"
Reading: Introduction to Ends of Empire (Columbia UP, 2010)
2nd Lecture (October 12, 10:00 am -11:00 pm)
Lecturer: Josephine Nock-Hee Park (U Penn) on Richard E. Kim's The Martyred
Reading: Cold War Friendships (Oxford UP, 2016) Ch. 2
3rd Lecture (November 9, 10:00 am-12:00 pm)
Lecturer: Josephine Nock-Hee Park (U Penn) on Susan Choi's The Foreign Student
Reading: Cold War Friendships (Oxford UP, 2016) Ch. 3
4th Lecture (November 23, 10:00 am-12:00 pm)
Lecturer: Daniel Y. Kim (Brown U) on Chang-rae Lee's The Surrendered
Reading: The Intimacies of Conflict (New York UP, 2020) Ch. 5
Only a limited number of English graduate students are to be admitted to this series of lectures.
If interested please contact bk21eng-admin@yonsei.ac.kr by September 13 (first come, first served)
with a brief summary of your research interests and your current affiliations.
In your email, please indicate which lectures in which you are interested.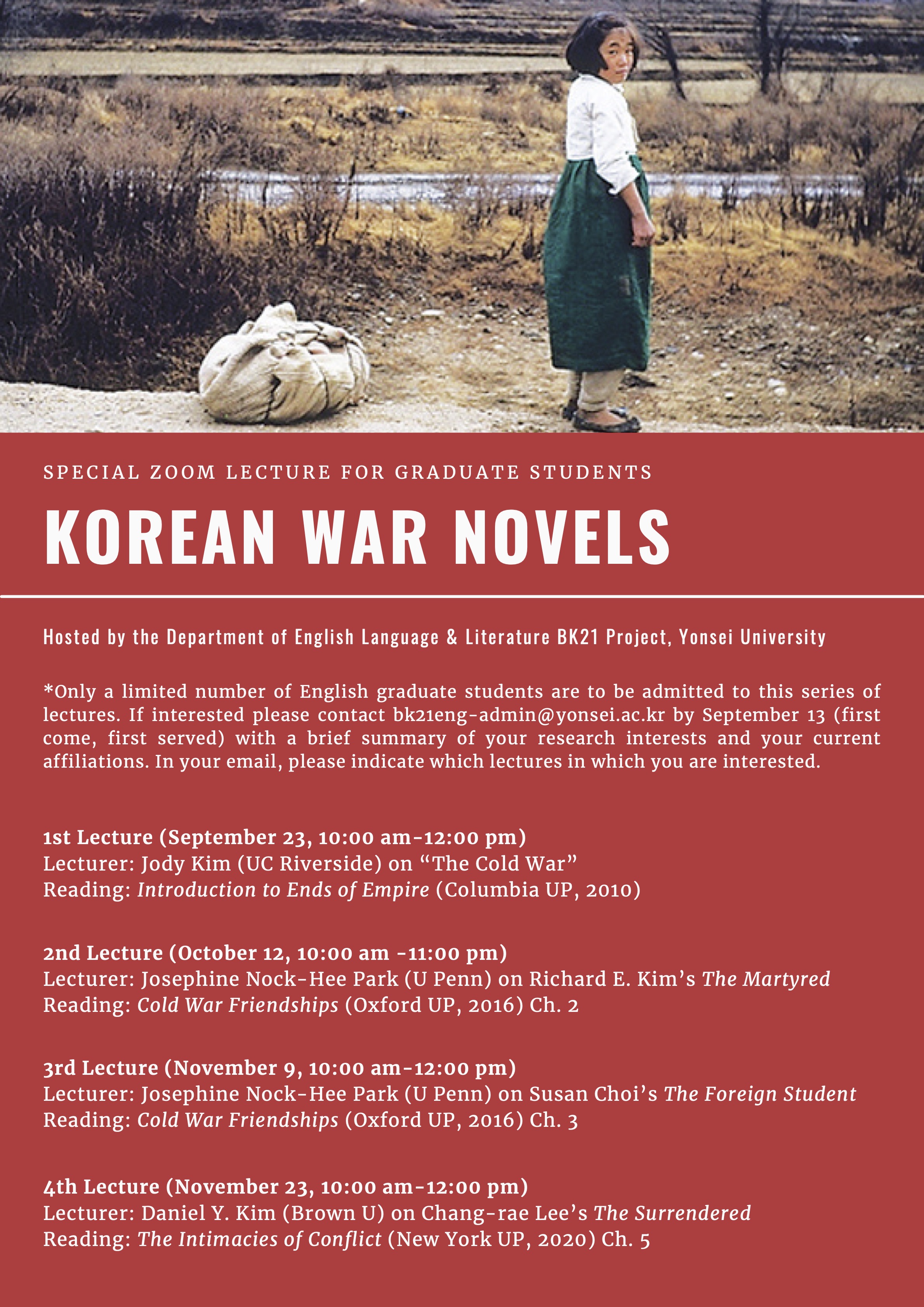 Hosted by the Department of English Language & Literature BK21 Project, Yonsei University